Expand your outdoors with a Philips Hue Lightstrip Outdoor 2 meter and bring ambiance to places you were not able to before. Flexible in nature and with perfect diffused light, the lightstrip is ideal for direct and indirect use.
Features:
• Uniform light for direct lighting
• Flexible to shape and bend
• Suitable for wet locations
• Unwind with warm to cool white light
• Power supply and plug included
• Requires a Philips Hue bridge
• Set your lights to welcome you home
• Smart control, home and away
• Set timers for your convenience
• Paint your outdoors with 16 million colors
• Special light for special occasions
Beautify your backyard
Give your garden a chance to shine as bright as your
home. Over 16 million colors and 50,000 shades of
warm and cool white light allow you to decorate the
outside just like the inside, whether you're
illuminating a walkway or shining a spotlight on your
favorite part of the patio.
Power supply and plug included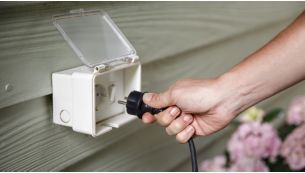 This unit pack comes with all elements you need to
get started, this includes a lightstrip and outdoor
power supply. So all you have to do is unpack, install
where you like and turn them on.
Weatherproof light strip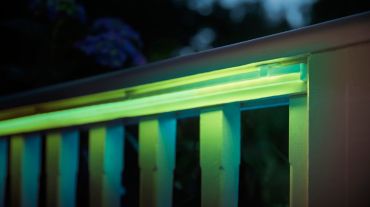 The outdoor light strip trip can withstand all weather
conditions, from small puddles of water to a
downpour that lasts for hours.
Flexible light strip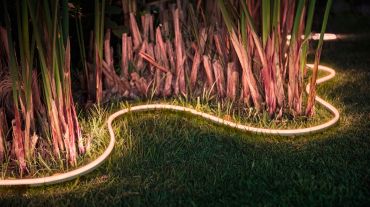 Completely flexible, the outdoor light strip lets you
shape, bend, and manipulate it to shine its light the
way you want. Line a winding outdoor path or let it
meander up a wall or column; with the included clips
and screws, you can install it anywhere.
Perfectly uniform and diffused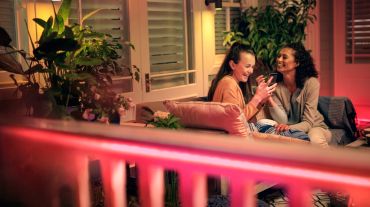 Philips Hue outdoor strip light features a special
coating that diffuses, or scatters, the emitted white
or colored light. There's no need to hide the light
strip, whether you're using it for direct or indirect
lighting — all you see is pure light.
Lightstrip
• Cut ability: No
• Input Voltage: 220V-240V
• Light output: 16 million colors, 2000 – 6500K,
Dimmable via smart device only
• Lumen output: 740 lm at 2200K, 760 lm at 2700K,
850 lm at 4000K, 900 lm at 6500K
• Max. standby power: 0.5 W
• Software upgradable: When connected to Hue
bridge
• Start up: Instant 100% light output
• Wattage: 19 W
• Color temperature: 16 million colors, Warm white
to cool daylight
• Height: 11 mm
• Length: 1990 mm
• Width: 20 mm
What's in the box
• Lightstrip Outdoor 2 meter: 1
• Power adapter: 1
Technical specifications
• Extra features: Diffused light effect
• IP code: IP67
• Lifetime: 25,000 h
• Weight: 1.14 kg
---
For more information, please visit this products
webpage