As you would expect from the market leader in AV receivers, Denon transforms any TV into a home entertainment centre with the DHT-S216. The low-profile,
wall-mountable soundbar features Dolby Digital Decoding and DTS Virtual:X 3D audio technology to create a powerful home theatre surround sound experience.
Fully compatible with today's HD and 4K TV's, the built-in 4K UHD HDMI (1 in / 1 out with ARC) delivers clear images and amazing sound quality. Quickly connect your TV,
Blu-ray or other devices through the HDMI (with Audio Return Channel) and Optical inputs, or easily stream your favourite music via Bluetooth. With two built-in down-firing
subwoofers powering dynamic theatre-quality audio in a minimal, low-profile design, you won't have the need for a separate subwoofer.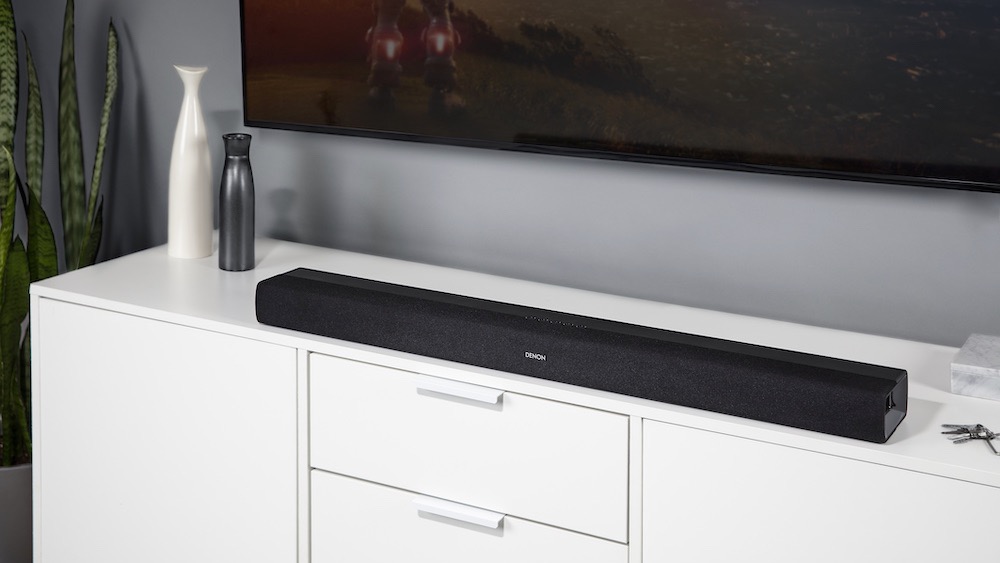 HIGHLIGHTS
Upgrade to 3D sound – Boost your home theatre experience for TV, movies, music and more when you upgrade to the DHT-S216 soundbar.
All-in-one soundbar – With a full driver array and built-in, down-firing subwoofers, you get the superior sound quality you want from a soundbar without the need for a separate subwoofer.
4K UHD HDMI with Audio Return Channel – Experience exceptional sound clarity through one single HDMI connection to your TV
Low-profile design and wall-mountable – At 2" (60mm) tall, the DHT-S216 fits in most spaces and won't block your TV's bottom edge like larger soundbars do
Wireless music streaming via Bluetooth – Quickly and easily enjoy your favourite music from your Bluetooth-enabled smart device.
Denon Dialogue Enhancer – Enjoy crystal-clear dialogue while watching movies and TV shows with complex audio soundtracks.
Optical digital audio and HDMI 4K UHD inputs – Effortlessly connect your Blu-ray, gaming console or other device.
4K HDMI and Optical cable included – Simply connect a single cord to your TV and enjoy immersive audio for every entertainment experience
Amazing audio built on 110 years on innovation – Denon is the defining audio company of Japan. Founded in 1910, we enable the moments that matter through the relentless pursuit of quality, innovation and audio performance.
---
For more information, please visit this products
webpage