The Sena 20S Motorcycle Bluetooth® Communication System helps you enjoy your ride to the fullest by keeping you in touch with up to eight of your buddies in crystal-clear HD audio, up to 2.0 km (1.2 miles) away, through the Group Intercom™ feature. The 20S uses the Universal Intercom™ protocol so it can be used with all Sena and non-Sena Bluetooth headsets on the market.
Crystal-clear HD audio and Advanced Noise Control™
Prepare to be amazed. The 20S delivers HD-quality audio that's clear, precise, and comfortable in every condition. Sena's Advanced Noise Control™ ensures ambient noise doesn't interfere with incoming and outgoing audio. Bluetooth 4.1 technology, high-quality stereo Bluetooth speakers, and dual-module architecture create a smooth, crisp, and responsive user experience you'll quickly appreciate.
Choose what you want to hear with Audio Multitasking™
Sena 20S Audio Multitasking™ technology allows you to have an intercom conversation while simultaneously listening to music, FM radio, or GPS. No longer do users have to deal with the frustrations of interruption-based audio functions of past Bluetooth communication devices. Now audio features won't interrupt each other but simply overlay for a smooth listening experience. Enrich your ride with interweaving audio sources.
Stay connected and in control with the Sena 20S app
Linking up your 20S with the Sena Smartphone app (for Android or iPhone) allows you to configure device settings, set groups of intercom friends, and access a Quick Guide. The 20S also offers the ability to pair with up to two mobile phones for convenient hands-free calling.
Specifications:
GENERAL
Talk time: 13 hours
Dimensions:

Main module: 94.7 mm x 48.3 mm x 25.5 mm 

Speaker: driver unit 36 mm – thickness 6.5 mm

Boom microphone: length 190 mm

Wire between speakers: length 555 mm

Weight:

Module: 60 g 
BLUETOOTH
Headset Profile (HSP)
Hands-Free Profile (HFP)
Advanced Audio Distribution Profile (A2DP)
Audio Video Remote Control Profile (AVRCP)
Bluetooth 4.1
INTERCOM
Working distance: up to 2.0 km (1.2 miles) in open terrain
AUDIO
Advanced Noise Control™
Built-in SBC Codec

Wide volume control

Sample rate: max. 48 kHz (DAC)
FM RADIO
Built-in FM radio with RDS AF (Radio Data System Alternate Frequencies)
Radio region: worldwide
Radio frequency specifications: 64 ~ 108MHz
10 preset station memory with automatic scan function
BATTERY
Charging time: 2.5 hours
Type: Lithium polymer
DUAL PACK AVAILABLE AT €499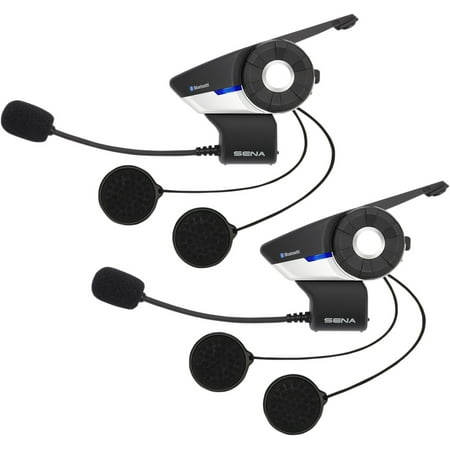 ---
For more information, please visit this products
webpage